Dental Implants – Chevy Chase, MD
Permanently Replace Your Missing Teeth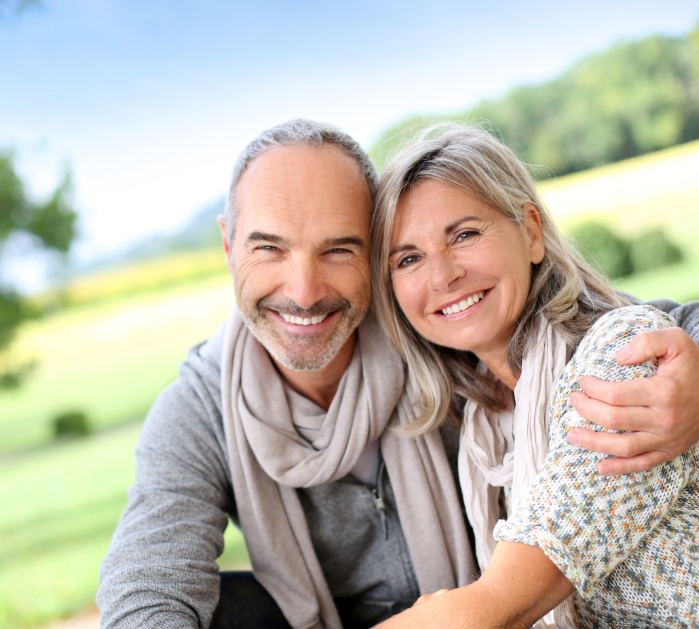 Tooth loss can make so many aspects of everyday life – from eating certain foods to speaking clearly to even laughing and smiling – annoyingly difficult or impossible. Rather than settling for a denture or bridge, why not choose to permanently replace your missing teeth with dental implants? These lifelike prosthetics essentially turn back the clock, making it look and feel as if you'd never lost your teeth in the first place. Dr. Annie Yu partners with a true dental implant expert to ensure safe, high-quality care. Contact Avant Dentistry to learn more about dental implants in Chevy Chase, MD!
Why Choose Avant Dentistry for Dental Implants?
Partnered with a Local Dental Implant Specialist
Digital Dental Impressions Without Messy Putty
Kindhearted Dentist Dedicated to Continuing Education
What Are Dental Implants?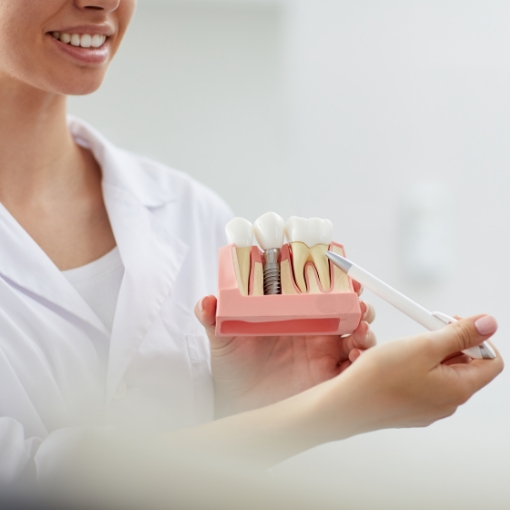 Essentially an artificial tooth root, a dental implant is a small post that is placed into the jawbone to replace the structure of the tooth that was lost. The post is usually made from titanium or other biocompatible substances, meaning that the jawbone bonds with it as if it were a natural tooth. Then, one or more replacement teeth are fixed on top of the implant to bring back the visual portion of your smile.
The 4-Step Dental Implant Process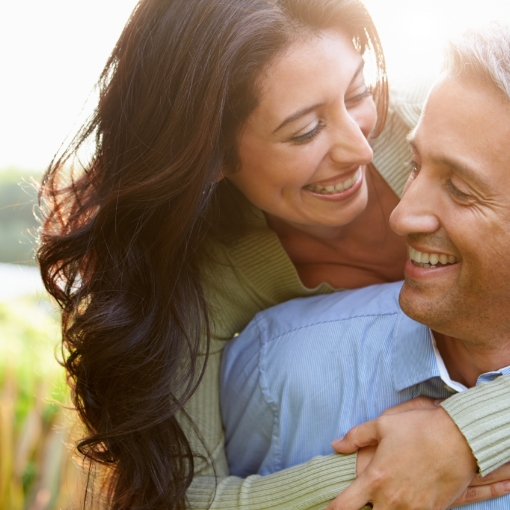 Consultation – The first step in getting dental implants is to meet with Dr. Yu for an initial consultation. Her examination will help her determine whether you're a good candidate, and she can also answer any questions you may have.
Dental implant surgery – Once she has given you the green light, Dr. Yu will refer you to a local specialist to have the implants surgically positioned in your jawbone.
Osseointegration and abutment placement – Next comes osseointegration, the process of your jawbone fusing to the implants, which can take up to six months. Then, you'll undergo another surgical procedure to have abutments placed, which are tiny metal connectors that will secure your replacement teeth. You'll likely wear a temporary restoration as you heal, and throughout this time, Dr. Yu will periodontally modify the temporary and the tissue around it to ensure that it emerges from your gums just as a natural tooth would.
Delivery of final restoration(s) – Finally, Dr. Yu can attach your customized dental crown, bridge, or denture atop your abutments to complete your brand-new pearly whites.
Benefits of Dental Implants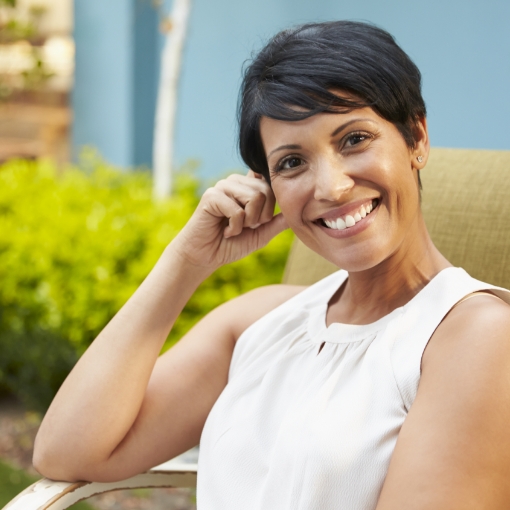 With dental implants, you can look forward to life-changing benefits like:
Stability – Conventional dentures are notorious for shifting out of place, but because implants are rooted in your jaw like real teeth, you can count on your replacement teeth always staying in place.
Enhanced chewing power – With their impressive durability and strength, you should be able to eat practically any food you want with dental implants.
Jawbone preservation – Jawbone loss is a common consequence of tooth loss, and dental implants are the only option that prevents and even reverses this process. As a result, you'll enjoy a reduced risk of future tooth loss and a younger-looking face.
Lasting results – The average lifespan of a dental implant is 30 years, but it can easily last a lifetime!
Who Dental Implants Can Help
Almost any adult patient with missing teeth can be a good dental implant candidate. All that you need is a generally healthy mouth and body as well as a jawbone that is strong enough to support the implants. If that's not currently the case, we can help change that! During your consultation, Dr. Yu can outline your treatment based on the number of teeth you're replacing.
Missing One Tooth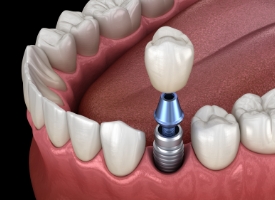 Rather than shaving enamel off of two perfectly healthy teeth to place a dental bridge, a single implant post can be vertically positioned into the space where your tooth used to be. Then, Dr. Yu can top it with a crown that is personalized to mimic the surrounding teeth.
Missing Multiple Teeth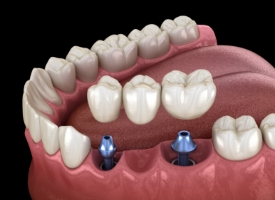 A small number of strategically placed implants can hold a bridge or partial denture in place without the need to alter your natural teeth. These prosthetics are much stronger and more reliable than the traditional versions.
Missing All Teeth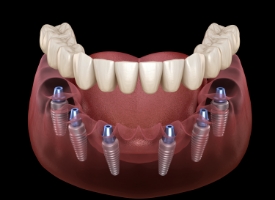 If you're frustrated with a constantly slipping denture, you'll be pleased to hear that just four to eight implants are often enough to hold a full denture firmly in place. Implant dentures fit more comfortably and allow you to chew more easily than regular dentures ever could.
Understanding the Cost of Dental Implants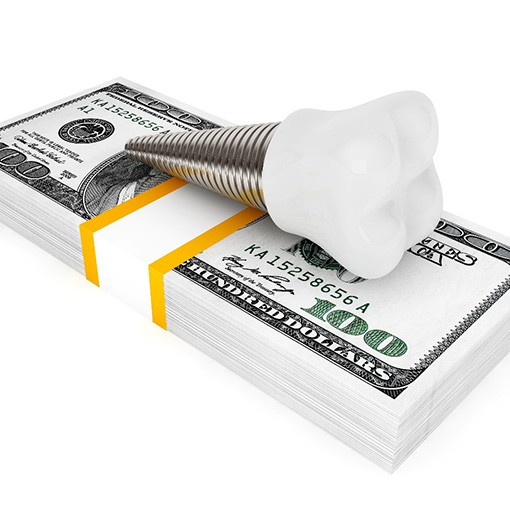 As you may be aware, dental implants are one of the most durable and reliable ways to fill a hole in your smile. However, they also have the highest up-front cost of any method of tooth replacement.
The truth is that there's a very good reason that implants cost what they do. The price is a reflection of the high-quality materials that make up these implants—it's an investment that can let you enjoy a lifetime of the most natural-looking, feeling, and functioning tooth replacement available.
Nailing down the exact cost of getting dental implants can be tricky, and depends on both the number of teeth you need replaced and the necessity of other treatments before the dental implants can be inserted. We'd be happy to talk with you about finances in more detail at a consultation, but until then, here are some things worth knowing about the cost of dental implants near Friendship Heights.
Preliminary Treatments & Dental Implant Surgery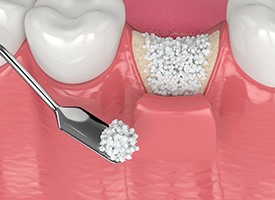 The success of dental implants is heavily dependent on the health of the gums and jaw, so if you have long-standing oral health problems, you may need some preliminary treatments to prepare for them. This can range from simple gum disease therapy to bone grafting or tooth extractions. Naturally, these treatments will add to your dental implant's overall cost.
The other major price factor is the surgery itself. We want the procedure to be as safe and easy as possible, so Dr. Yu will refer you to an expert dental surgeon for the placement of your implants. This surgeon will be able to give you an estimate of how much this part of the procedure will cost.
The Parts of Your Dental Implant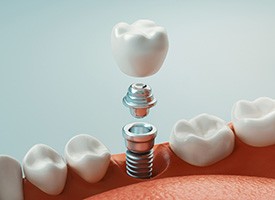 Dental implants are marvels of oral medicine, and there's a lot to learn about them if you want to know everything. If you want to know about what contributes to price specifically, here are some factors that may affect it.
Number of dental implants that you'll need
Material the dental implant will be made out of (typically titanium)
The type of restoration you're getting, whether it's a crown, bridge, or denture
The manufacturer of the dental implant
How Dental Implants Pay for Themselves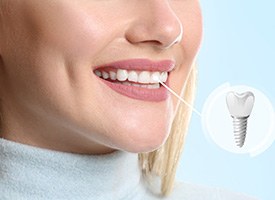 Dental implants usually involve a larger upfront cost than other tooth replacement options, which means that budget-minded patients tend to avoid them. However, there's a good argument to be made that they can save you money in the long run.
Even the best-crafted dentures and dental bridges will need to be replaced every ten years or so, which adds up over the course of a few decades. Dental implants, on the other hand, routinely last over 30 years, and most will last a lifetime with proper care! This means that dental implants save you the cost of having to pay for new dental restorations every few years.
Does My Dental Insurance Cover Dental Implants?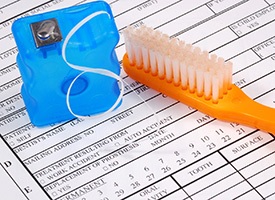 It's uncommon for insurance to pay for dental implants, but not unheard of. Depending on your circumstances and the plan you have, it's possible that insurance could fund part of your treatment. We'll be happy to help you navigate the paperwork and get the most out of your dental insurance coverage.
It's important to remember that dental implants are absolutely worth what they cost, and that even if they aren't covered by insurance, they pay for themselves with what an incredible impact they can make in the lives of patients. At Avant Dentistry, we firmly believe that dental implants are the best option for tooth replacement for most patients, so we will do everything we can to help your dream smile fit your budget.
Dental Implant FAQs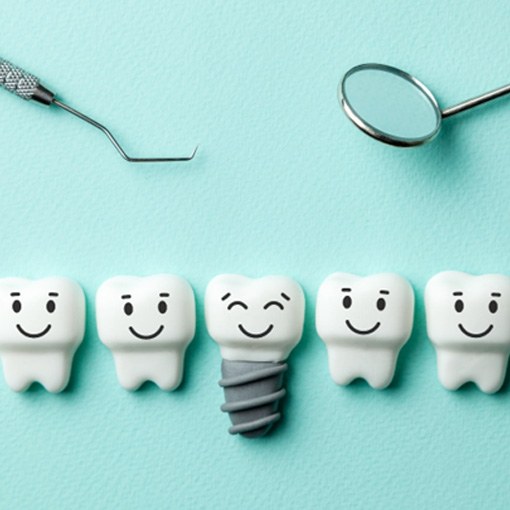 For people with missing teeth, dental implants are a solution that feels and looks natural! However, choosing a tooth replacement option is a huge decision, so it pays to be well-informed. We're here to help! Here are the answers to some of the most common questions we receive about dental implants in Chevy Chase. If you don't see the information that you're looking for below, don't fret! Give us a call and we'd be happy to address any of your questions or concerns.
How Long Do Dental Implants Last?
The lifespan of dental implants typically depends on the health and lifestyle choices of the patient. To ensure that dental implants last, it's crucial that you brush twice and floss once daily. Rinsing with mouthwash every day is another great step to keep your smile clean. You should attend regular cleanings and checkups and avoid chewing on anything particularly hard or sticky. With proper care, dental implants near Friendship Village can last upwards of three decades! This is several times longer than traditional bridges and dentures.
How Successful Are Dental Implants?
When placed by a skilled professional, dental implants have an incredible success rate of over 95%! However, the success of your implants will depend on how well you maintain them with proper oral hygiene, checkups, and lifestyle choices. Success can also vary based on the location of the implant in your mouth. For instance, molars receive more strain from chewing than front teeth, so they are slightly more likely to fail.
Am I Too Young to Get Dental Implants?
Most dental professionals will not place implants in patients younger than 18. If implants are placed before the jaw is finished growing, it can interfere with further bone development and result in complications. Most people's jaws aren't fully developed until young adulthood – some not until their mid-20s. During your consultation with us, we can discuss whether dental implants are the best option for you at this time.
Will People Be Able to Tell That I Have Dental Implants?
Impressions will be taken on your mouth that are used to design your personalized restorations. Once they have been placed, no one should be able to differentiate them from your natural teeth. Dental implants are placed in the jaw like tooth roots, so you don't need to worry able your replacement teeth remaining stable like you would with ill-fitting dentures.